Saturday, May 14th, 2016 at 12:54 pm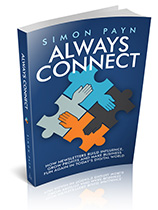 A book by our founder and president, Simon Payn, is now available.
What's it about? Newsletters... of course! And how to use them to build influence, grow profits and make business fun again in today's digital world.
The book is basically everything he knows about newsletters and the new technologies that build on newsletters to make growing your business so much easier.
Here's a taste of what's inside:
• Discover the single biggest secret to being happy, fulfilled (and successful) in your business.
• Find out the most important number in your business. Without knowing this, you're shooting in the dark.
• How to nurture leads… without lifting a finger. This alone will save you hours of wasted time.
• The secret to becoming the go-to expert in your industry. When you do this, sales turn from struggle to pleasure.
• The one thing to get right if you want to crush your competition. This one strategy will make you the obvious choice for your favorite customers.
• The surprising way that automation can actually magnify the relationship you have with your clients.
• What your newsletters must have to make them profitable. Fail to do this and you could waste time and money.
Go to http://www.alwaysconnectbook.com and click the button that says Buy the Book.